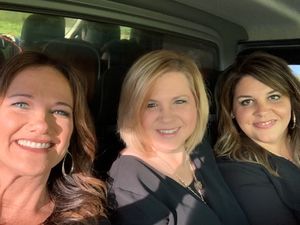 "Get Up In Jesus Name" the energetic and upbeat Southern gospel track from the recently released CHRONICLE: Friends and Music, featuring Alecia Nugent's powerful lead vocal, and Beth Lawrence alongside Gena Britt on harmony, has just made it's debut at number one on the Bluegrass Today Gospel Chart.
This passion infused song has been receiving escalated SiriusXM airplay and a warm reception from listeners on both Bluegrass Junction and the Enlighten programs. When you hear it you will understand why. It offers anything and everything you could possibly want from a feel good, inspiring southern gospel tune. Energy, spirit, amazing instrumentation and soulful vocals that lift you straight up out of your seat.
A job well done in arrangement, recording and execution by the vocalists and band! More, More, More!