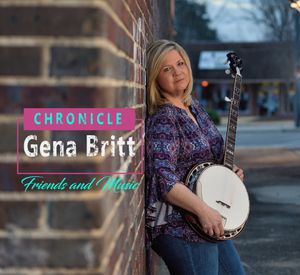 "You may know Gena Britt as a member of the bluegrass supergroup, Sister Sadie. However, her resume includes so much more than that. She is one of the most respected current bluegrass banjo players. She has been a member of Lou Reid & Carolina and Grasstowne. In addition, Britt has done work with The Lonesome River Band, Balsam Range, and Alecia Nugent, just to name a few. She has just released a new solo project, Chronicle: Friends and Music. 
Gena Britt's new project is just what it's title implies, an album featuring great music from her and her friends. Those musical friends are recognizable names, including Brooke Auldridge ("On and On" penned by Bill Monroe), Marty Raybon ("Traveling Poor Boy" penned by Brent Cobb), Dale Ann Bradley ("You Don't Get Over That" penned by Tim Stafford & Steve Gulley), and Alecia Nugent ("Get Up In Jesus' Name"). Add to that songs written by Tim O'Brien ("Untold Stories") and Eli Johnston ("Over and Over" and "Looking Forward to the Good Life"), and you have a quality project all the way around: singing, performing, production, and songwriting. One of my favorite tracks on the album is the instrumental "Soldier's Lament". It seems to be the flip side to the upbeat, old fiddle tune, "Soldier's Joy". 
There are 13 tracks on Chronicle: Friends and Music. I noted the guest vocalist that appear on this project, but I must mention that Britt sings lead on 6 songs. I would be remiss if I did not mention at least some of the other folks that lent their talents to this album: Jason Barie, Tina Adair, Darren Nicholson, Zak McLamb, Deanie Richardson, Scott Vestal, Alan Bibey, and Keith Garrett. Even if I did not know the title of this project, the album has a feeling of friends gathering to play great music, just shy of a jam session. I recommend Gena Britt's Chronicle: Friends and Music."
-Michael "Porkchop" Branch, 92.1 WLHR Lake Hartwell Radio