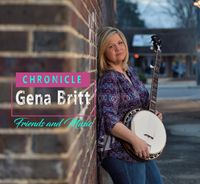 Gena Britt 
Chronicle: Friends and Music – 2019 (Pinecastle) 
Reviewed by Donald Teplyske
The third solo album from a member of Sister Sadie to be released in 2019, "Chronicle: Friends and Music" (following those of Deanie Richardson and Dale Ann Bradley) reflects the breadth of modern bluegrass: energetic and intense, firmly rooted in the foundations of an ever-evolving music. 
An original Daughter of Bluegrass, North Carolina's Gena Britt has been - for more than three decades - one of bluegrass music's most identifiable and increasingly in-demand 5-string players. Once an anomaly - a female working at the highest levels of a staunch and frequently overbearing industry - Britt is rightly viewed as one of the finest melodic and driving of performers. In Murphy Hicks Henry's expansive tome "Pretty Good for a Girl," when writing of the mid-Eighties that "the second wave of female banjo players was rolling in," the first next mentioned is Gena Britt. 
"Chronicle: Friends and Music" collects 13 tracks, six featuring Britt on lead vocals and recorded with some of bluegrass music's most recognizable names, including all of her Sister Sadie compatriots. The album is significantly cohesive in sound and presentation. 
Highlights include the radio-friendly "Over and Over," "Come to Jesus" and "Runaway Train," each sung by Britt. While Britt's voice isn't necessarily as distinctive as some of her bluegrass sisters, it is robust and sensitive, entirely engaging and entertaining. 
With friends like Brooke Aldridge available, Brett wisely takes advantage and features her on Bill Monroe's "On and On," a significant alliance that should not be over-looked when awards time next comes around. 
Duane Sparks' lead vocal appearance on "Ships That Don't Come In," Robert Hale's on "Looking Forward to the Good Life" and Marty Raybon's on "Traveling Poor Boy" also elevate this very strong collection. Out of the bluegrass spotlight for a number of years, Alecia Nugent makes a welcome return on the affecting "Get Up in Jesus' Name." 
Additional songs from Tim O'Brien ("Untold Stories") and Tim Stafford and Steve Gulley ("You Don't Get Over That") as well as a pair of instrumentals (Britt's "Soldier's Lament" and "Big Country") solidify a stout collection of music that weaves in, out and about all expected bluegrass touchstones. 
Bluegrass music has an inaccurate reputation as a music that is about 'out-performing' others. Rather, and at its core, bluegrass is about artful instrumental and vocal collaboration, and this is in evidence throughout "Chronicle: Friends and Music." It isn't about hot licks and speedy note popping - although there is plenty of that. Instead, bluegrass is about friends coming together to present songs in a most endearing, artful manner. 
This is a timely collection of contemporary bluegrass that will be long-regarded for its quality and substance.